VETogether Die Therapeuten Academy !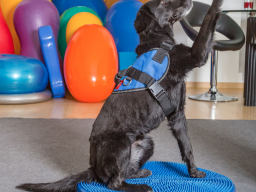 Balance Pads
Location:

Live webinar

Video price:

24.95 €

Video duration:

1 hour and 28 minutes

Language:

German
A recording of this webinar is available.
Eine einfache Möglichkeit für vielfältige Bereiche mit oft ungeahnten Effekten.
Egal ob für Diagnostik oder Therapie, diese einfachen Pads faszinieren.

In diesem Webinar werden Indikationen, Kontraindikationen, allgemeine Einsatzmöglichkeiten, gezielter Trainingseinsatz und die Nutzung zur Diagnosestellung besprochen.
Egal, ob Hund, Pferd oder Mensch, jeder kann seinen Nutzen aus diesen Methoden ziehen, gezielt und schnell Muskulatur aufbauen, Tiefenmuskulatur ansprechen und dabei noch ein Antistressprogramm fahren.
Es werden unterschiedliche Pads vorgestellt und deren Vor- und Nachteile für den jeweiligen Nutzen angesprochen. Wenn die Tiere in Balance gebracht werden, ändert sich einiges im Nervensystem und dadurch werden Gesundheit sowie Leistungsfähigkeit gesteigert.
Helft mit, die Tiere in eine gesunde Balance zu bringen, kombiniert im Training, beim Putzen oder als Warm up und Cool down für den Sportbereich.